Original Source: http://feedproxy.google.com/~r/breitbart/~3/NUMFj5gP0r0/
—
Let me share yet another bit of info on Donald J. Trump's Presidency. Make certain you keep yourself in the loop!:
==>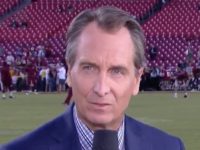 NBC's "Sunday Night Football" analyst Cris Collinsworth called on President Donald Trump to apologize for calling players protesting the national anthem "SOBs." "I would say he should apologize," Collinsworth stated Sunday. "They're not SOBs. They're smart, thoughtful guys. They really are." Collinsworth continued, adding that the protesters want the same thing as Trump: "a better America." "I guarantee you if the president invited — I can make a list of 10 guys — to the White House and heard their stories and heard their thoughts and heard how concerned they are about America, they would find the common ground and they would move this forward," he said. Follow Trent Baker on Twitter @MagnifiTrent
.
.
.
Please remember, do not believe the mainstream media's nonsense and do not allow them to depress you. Make America Great Again!

Read more